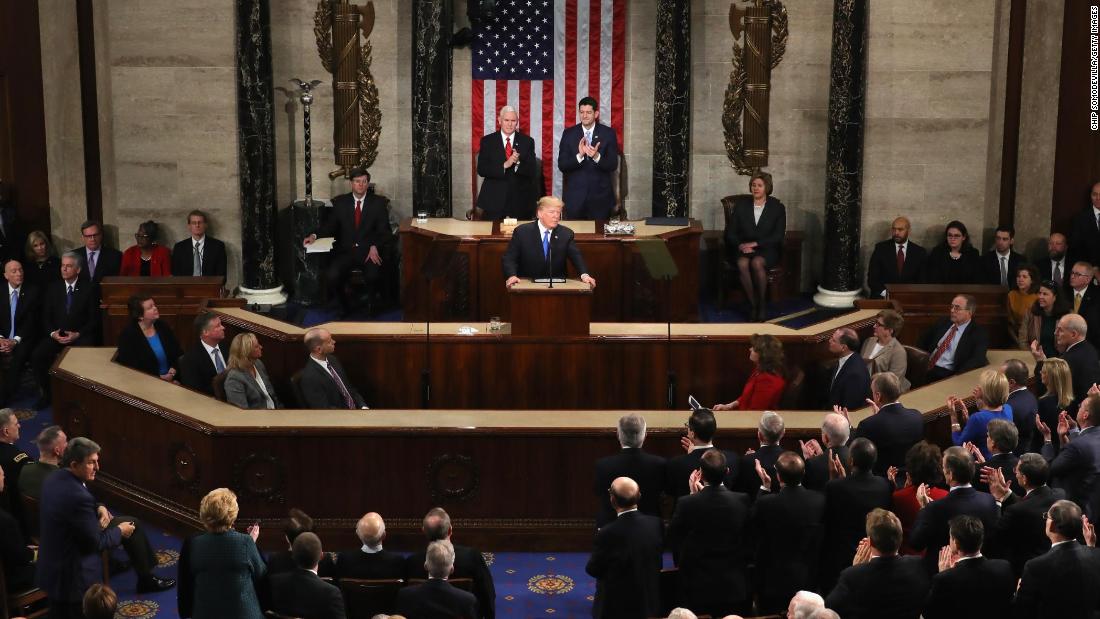 Washington (CNN)When Trump gave his State of the Union address last year, he was coming off one of the highest points in his presidency. He had just signed a huge tax cut into law and removed the Obamacare mandate penalty. Both the House and Senate were controlled by Republicans, and he was enjoying some of his highest approval ratings as president.
According to one senior administration official, the theme of Trump's speech is "choosing greatness." Topics are set to include the economy, immigration, trade, healthcare, and foreign policy. "It's going to be a speech that's going to cover a lot of territory," Trump told reporters last week.
As a pre-SOTU guide, we've taken a look at the President's recent rhetoric and the facts around the topics he may touch on.
Immigration and The Wall
More than anything else, the issues of immigration and border security have consumed Trump's first two years in office. Here's a look at some recent talking points and whether they're true.
Trump long ago abandoned his 2016 campaign promise that Mexico would pay to build a wall. Instead, he now makes the case that Mexico will "indirectly" pay for the barrier, thanks to the potential increase in tax revenue generated by his replacement for the North American Free Trade Agreement. (See more on these trade agreements below.)
But the new deal hasn't yet been ratified by Congress, where Democrats have expressed opposition. And even if the new United States Mexico Canada Agreement ends up raising tax revenue, there's nothing earmarking that money for a wall. Income and corporate taxes are general revenue that would have to be appropriated by Congress.
Another way trade could bring money into the Treasury is through tariffs — which are paid by American importers when they buy foreign goods. But like the original NAFTA, the new deal aims to keep trade between the three countries largely tariff-free.
Available Customs and Border Protection data shows a total of 396,579 people were apprehended by the US Border Patrol for fiscal year 2018 at the southwest border, which would mean an average of 1,087 each day — hardly the "thousands" that Trump purports. The numbers differ each month. The highest number of apprehensions was in September, with a daily average of nearly 1,400.
Apprehensions are still well below historic highs. In the early 2000s, for example, annual apprehensions routinely topped 1 million. After hitting an historic low in 2017 of around 300,000, apprehensions increased in fiscal year 2018 to nearly 400,000.
The President also expressed concern about what he called "a growing humanitarian crisis." There's been an uptick in unaccompanied minors and families approaching the US-Mexico border, many of whom are seeking asylum. Deteriorating conditions in the Northern Triangle (Guatemala, El Salvador and Honduras) are among the reasons that some have decided to make the journey.
In 2016, nearly half of the people apprehended at the US-Mexico border came from these three countries, compared with roughly 10% in 2010, according to Homeland Security Department data.
Trump made this claim during his speech on immigration during the government shutdown last month, and — as we found at the time — it's true:
For months, Trump has raised the specter of "terrorists" crossing the US-Mexico border. He brought this up repeatedly before the 2018 midterms when a caravan of migrants, primarily from impoverished Central American countries, marched through Mexico toward the US border.
DHS secretary Kirstjen Nielsen tried to massage the narrative with a series of tweets: "The number of terror-watchlisted encountered at our Southern Border has increased over the last two years. The exact number is sensitive and details about these cases are extremely sensitive."
Additionally, a State Department report from 2016 said there was "no credible information that any member of a terrorist group has traveled through Mexico" to sneak into the United States.
Bergen noted that the most notorious case of a terrorist apprehended at the US border is the "millennium plot," when an Algerian citizen with ties to al-Qaeda was arrested at the US-Canada border in December 1999. He hoped to blow up Los Angeles International Airport.
Trump likes to claim that more people are working now than at any point in the history of the United States.
This is true, but it needs context. By the time former President Barack Obama left office, there were some 190,000 fewer manufacturing jobs than existed at the start of his administration. But that doesn't tell the whole story. The US was in a deep recession when Obama entered the White House in January 2009, and the manufacturing sector was shedding tens of thousands of jobs a month. But the losses stopped by early 2010. Over the next six-plus years, manufacturing jobs rose by more than 800,000.
This is a bit misleading. Since Trump took office, some mills have restarted, gone through renovations and been expanded. But it's important to note that the vast majority of this work was planned years before Trump took office, according to industry analysts.
Since his last State of the Union address, Trump has enacted billions of dollars in tariffs and also renegotiated the NAFTA trade deal. He is likely to touch on both tonight.
When Trump talks about tariffs, he often talks about the amount of money that is now pouring into the US Treasury. He tends to give the impression that money is being paid by foreign companies. But that's not really what's happening. Instead, most of those tariffs are being paid by US companies that import those foreign goods. The real question is who bears the cost. Often, US companies will pass it onto the consumer by raising prices, while other times a company will reduce compensation or employment internally to offset these higher costs. In some instances, the Chinese supplier might take on the burden of the tariff by reducing its prices in order to maintain its price advantage in the US.
Trump is trying to realign trade so that US products become more competitive with their cheaper Chinese alternatives. That will likely require a long-term adjustment of the US industrial base. In the short term, US consumers and companies will most likely end up bearing the cost of the tariffs. The Tax Foundation said last year it expects the tariffs to lower GDP and wages, and cost American jobs, hitting lower- and middle-income households the hardest.
Trump touts his trade deal with Canada and Mexico as a big win, but the new agreement isn't drastically different from the existing North America Free Trade Agreement. NAFTA already eliminated most tariffs on goods traded between the three countries.
While many parts of the original deal would remain intact, the new deal — known as the United States-Mexico-Canada Agreement or USMCA — does include a brand-new chapter on digital trade. It also would create restrictions on auto manufacturing, requiring more of a vehicle's parts to be made in North America and by workers earning at least $16 an hour in order to remain tariff-free. The deal also opens up Canada's dairy market to US farmers.
The USMCA needs approval from both chambers of Congress before it can go into effect. Its passage is no sure thing, as Republicans and Democrats have expressed concerns.
Trump's isolationist agenda has been fast-tracked in recent months, particularly as he has promised to withdraw troops from Syria.
The Inspector General's report also says "ISIS is regenerating key functions and capabilities more quickly in Iraq than in Syria, but absent sustained [counterterrorism] pressure, ISIS could likely resurge in Syria within six to twelve months."
Victories against ISIS should not be understated, but suggesting that they have been defeated is not accurate.
But Trump is expected to pivot back to the need for an Afghanistan exit tonight. Over the weekend, he reiterated that the US must get out of "endless wars" in Afghanistan.
In an effort to prevent Trump from making any rash decisions like he did with Syria, Afghanistan's President Ashraf Ghani wrote Trump a letter last week inviting him to Kabul where the two could discuss how to cut down the cost of the US presence and the number of US troops in the country. Trump has received that letter, says a NSC spokesperson, and he could reply to that invitation by Tuesday night, according to Afghan sources.
It will also be key to watch what Trump says about the Taliban. Trump initially said his administration does not negotiate with terrorists but in recent weeks the State Department confirmed that the top US Envoy for Afghanistan met with the Taliban in Doha. These meetings have led to tension between the US and the Afghan government, which has not been at the table with the Taliban thus far. The Trump administration is working to smooth over these tensions.
The Taliban is operating from a position of power in that they now control more territory in Afghanistan than they have at any time since the war began. As a result, the Afghan government's hold on territory is weaker than ever before — they now control 16 percent fewer districts than they did in 2015, according to a recent Special Inspector General for Afghan Reconstruction (SIGAR) report.
Last week, US intelligence agencies warned that North Korea "is unlikely to give up all of its WMD stockpiles, delivery systems, and production capabilities."
When Trump announced in May 2018 that the US would be pulling out of the Iran nuclear deal, he cited the potential for Iran to build nuclear weapons as one of the primary reasons.
The US intelligence community believes Iran is continuing to comply with the deal and is not currently working on creating a nuclear device. The report notes that Iranian officials have threatened to abandon parts of the deal if they don't start seeing financial benefits.
The topic of healthcare has taken a back seat recently, but Trump is likely to touch on a few key issues tonight.
It's true that his administration has focused on the issue. Since unveiling a 44-page blueprint last May, the Department of Health & Human Services has rolled out several proposals aimed at lowering drug costs. But overall, it hasn't moved the needle much. Experts say most of the efforts would have marginal impacts.
One thing that the Trump administration has accomplished is approving a record number of generic drugs, which typically have lower prices.
In the past two years, the Department of Health and Human Services uncovered $3.3 billion in Medicare and Medicaid fraud but it wasn't all related to opioids. Some of the fraud related to illegal kickbacks and false bills for unnecessary medical procedures. That said, HHS did blacklist nearly 900 doctors and nurses "based on conduct related to opioid diversion and abuse," meaning they can't participate in federally funded health care programs.
"We have secured $6 billion in new funding to combat opioids, the most money ever received in history."
Read more: https://www.cnn.com/2019/02/05/politics/readers-guide-to-the-state-of-the-union/index.html